Sea Us Rise is invited by the St Pete Sci Fest & the University of South Florida – St. Pete to be part of their wonderful event this year. We will be initially talking to 4th and 5th graders all around the area. It will be livestreamed on their site and then uploaded to Youtube.
We are bringing some great people on board. Michael and Paula of Sea Us Rise are leading the chat, representing the US and UK. SUR musicians Dane Myers and Charity Stow join in, also repping the US and UK. Climate Activist Holly Thorpe will zoom in from Miami. Students will hear how she, as a 6th grader, got the Miami-Dade county school board to switch to electric buses.
Dane and Charity will talk about making this Change video, and how their passion for music combined with concern and care for the planet. Great to bring music to the St. Pete Sci Fest!
We will also hear Charity's Wake Up video, inspired by a close encounter with the Extinction Rebellion.
Science and Sustainability are her passions
Holly Thorpe was working on a science assignment when she discovered that carbon levels inside the buses were waaaaay over allowed limits. You can read more about it here, in her own words. We think she will be extra inspiring to the students, since she is only a year or two older than them.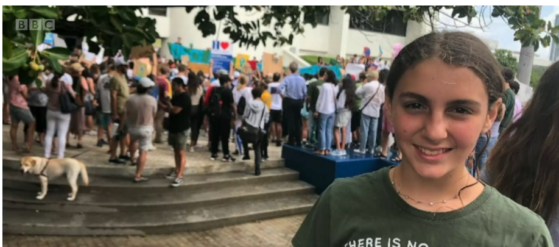 We have a fun surprise at the end of our presentation, and then a little Q & A time. Tune in to the St. Pete Sci Fest! It is on both Friday and Saturday, virtual both days.